Chinese and Swahili Versions of Mandy and Fanny Cartoon Book on Biotech
The novel educational cartoon featuring two characters, "Mandy" and "Fanny" impersonating biotech
maize
and biotech
cotton
, is now finding its way to China and East Africa through Mandarin and Swahili versions.
The 60-page educational cartoon publication features a lively dialogue between Mandy (biotech
maize
) and Fanny (biotech
cotton
). Eye-catching frames present factual messages about
biotech crops
as contributors to sustainable agriculture. The educational cartoon publication aims to demystify misconceptions/notions that
biotech crops
are harmful to human beings and their
environment
.
Dr. Clive James, Founder and Chairman of
ISAAA
commented that "Sharing knowledge with young people about the new technologies of the 21st century, such as
biotech crops
, is vital, because they will be the decision-makers of tomorrow. The educational cartoon illustrations will enhance the understanding of children and young people about the utility and safety of
biotech crops
, which represent an essential element in a global strategy that will contribute to food security and the
alleviation of poverty
in developing countries."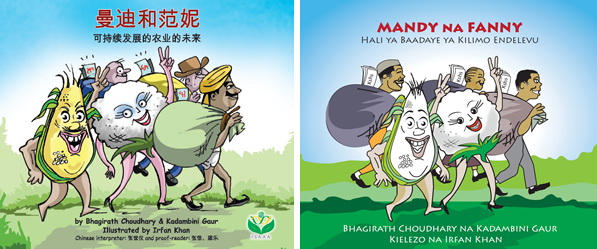 Follow "Mandy & Fanny" on
http://www.facebook.com/mandyandfanny
and log on to
http://www.chinabic.org
and
http://www.isaaa.org/india
for more information about the cartoon and illustrations, selected images and a print copy of the cartoon publication "Mandy & Fanny: The Future of Sustainable Agriculture". For a print copy of the Chinese version contact China BIC at
zhangt@mail.las.ac.cn
and
zhanghx@mail.las.ac.cn
. The Chinese, English, and Swahili versions of Mandy & Fanny are available at
http://www.isaaa.org/resources/publications/mandy_and_fanny/default.asp